Kleiner Tablet-PC von LG: C1
03 Jun 2007 - 22:28
|
Version
1
|
Doebeli
Bei
digital media thoughts
ist ein ausführlicher Testbericht zu einem kleinen und leichten (1.3kg) Tablet PC von LG nachzulesen: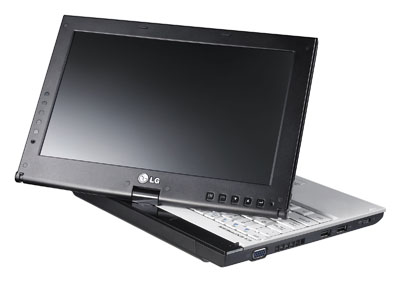 Pros:
Incredibly small, light, and thin;
Impressive processor and graphics chip for the size;
Came without any junk trial version software pre-installed;
High-build quality with a three year warranty, good overall aesthetics.
Cons:
Poor battery life with standard-sized battery;
Quirky software/driver issues make for a bumpy experience;
Expensive, with only 1 GB of RAM included;
Glossy black finish is a magnet for fingerprints.
Summary: The LG C1 is an intriguing laptop with a surprising amount of power crammed into an extremely small and lightweight frame. On paper it looks unbeatable, but in real day to day use, lacklustre battery life and quirky software issues take some of the shine off what would otherwise be a stellar laptop. For some people, this may be the ultimate ultra-portable laptop – it certainly breaks new ground in some areas. For others, the limitations (including the high price) may outweigh the wow factor.
Auf den ersten Blick einiges stylischer als der
ThinkPadX61
, aber die Batterielaufzeit ist schon etwas gar kurz...
mehr...
---
Zum Kommentieren ist eine
Registration
notwendig. Kategorien:
IsaBlog
,
IsaTabletPC